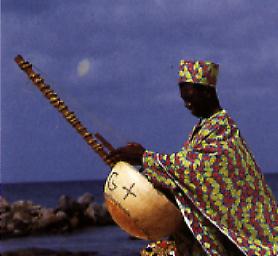 Senegal, and its well-developed music industry, have produced some of the most globally successful African bands and artists. Their exploration of contemporary sounds have been balanced with the incorporation of traditional local instrumentaion such as the Wolof sabar and tama drums, and Mandinka kora. The independence year of 1960 marked a historically important year for Senegal's musical development. Kinshasa band Ryco Jazz toured, showcasing their strong Zairean rumba influence to a country that had long loved the Cuban son, charanga and rumba sounds of bands like Orchestra Aragaon and Johnny Pacheco. In August of 1960, Ibra Kasse formed the Star Band du Dakar with singers Labah Sosseh and Pape Seck. Star Band launched the careers of many Senegalese musicians and fathered a number of musical offspring including Star Number One (which became Orchestra Number One and Number One de Senegal), Etoile 2000, Orchestra Baobab, and Etoile de Dakar.
Orchestra Baobab, which formed in 1970, represented in its early stages the older, slow, rumba sounds which were to give way to the more modern energetic rhythms of mbalax. The band at various times featured such vocalists as Thione Seck, Balla Sidibe and Rodolphe Gomis as well as the unique guitar work of Barthelem Attiso, and combined Wolof, Mandinka, Guinea Bissau, and Spanish influences. While later evolutions of the band turned to a more tama-oriented mbalax sound, such recordings as the "Legendary 1982 Session" of Pirates Choice feature the timeless, sweet rumba side of Baobab. In the early 1990's Baobab/Star survivors Medoune Diallo and Pape Seck teamed up with Senegalese super producer Ibrahim Sylla and a battery of Cuban and Puerto Rican greats to pay hommage to the Latin-African fusion. This recording studio creation, Africando, produced several exceptional recordings for the Stern's label. Sylla himself deserves mention as Africa's number producer who has worked with a pan-African collection of stars from Mali and Senegal to Cameroon and Zaire.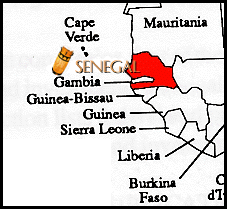 But it is mbalax which defines the contemporary Senegalese musical signature. Another Star child, Etoile de Dakar, was the first official band of a young Wolof singer destined to became Senegal's major superstar. Youssou N'Dour had a professional reputation as "Le Petit Prince de Dakar" by his early teens and made his first recording session, at the age of 19, with the Star Band in 1978. The following year he broke off with some members of the group to form Etoile de Dakar. When N' Dour moved to Paris, he reorganized the band as Super Etoile. N'Dour helped to create, develop and promote mbalax, a Wolof-dominated style that incorporates traditional rhythms of the sabar and bugarabu drums, as well as the "talking drum" bursts of the tama. N'Dour has continued to forge ahead, bringing in more Western elements but never losing his mbalax roots. In recent years he has also formed a recording and production studio (Xippi or "Eyes Open") in Dakar, which has been used by such other musical notables as Senegal's foremost female vocalist, griot- descendent Kine Lam.
Other important progenitors of mblax included Super Diamono which began in 1975 with singer Omar Pene and guitarist Ismael Lo. Lo left the band in 1984 and went on to solo success. Other major groups of the 1970's and 1980's include Le Xalam, who blended folkloric music with contemporary jazz and rock, and Toure Kunda who hailed from the southern Casamance province and created an Afro-rock fusion with a mix of Soninke ("toure" means family in Soninke), Mandinke, Peul, Diolla, Wolof and Portugese Creole vocals. While much of Senegelese music has been dominated by the Wolof majority, singer Baaba Maal has been a champion of the Pulaar (Fulani) speaking Toucouleur people of northern Senegal. Maal abandoned law school studies in favor of music, and has used his art as a platform for his intellectual and social causes. His guitarist and friend, Mansour Seck, has helped define his succesful style. Long-term artists as well as newer arrivals continue to explore both traditional and contemporary sounds as well as mixtures of the two. A Senegalese rap style called tassou has become popular and a new group who rap in Wolof and French, Positive Black Force, released a 1996 CD for the U.S.based Mango label. Whether at home or abroad, it is certain that Senegalese artists will continue to be an important presence in defining the directions and possibilities that await Afro-pop.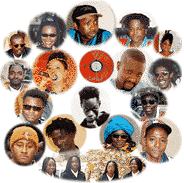 "The base of all music in Sénégal is traditional," says Baaba Maal, one of the finest contemporary musical artists in Africa; and, traditional Sénégalese music may be the foundation for much of the music of the Western world. Aficionados of country blues, calypso, reggae, beguine, and rap, whether or not they recognise it, hear echoes of the musical rhythms of the land of Teranga, the gateway to Africa.
Existing traditional Sénégalese rhythms, such as the Yela, which come from the old Empire and predate all colonialization of Sénégal, still resound thanks to musicians such as Baaba Maal. Sénégalese kings used Yela to call the people of the Empire together so that they could listen to important events.
Yela is the music of women, as it mimics the sound they made when pounding grain. When performing the Yela, some women would hit the stressed third beat on their calabashes, while others carried the weaker first beat by clapping their hands. It is the Yela Jimmy Cliff heard when he visited Dakar; and it is reputed to be the primary influence for the development of reggae in the Caribbean.
Some of the traditional musical instruments still being used to make music in Sénégal are the twenty-one stringed kora, the violin-like riti, the hoddu and the seven-stringed African guitar.
Asly Fouta, a group of seventy musicians, is, according to Baaba Maal, "a university for the traditional African music" being central to the education of many great music makers. It is with this group that many have learnt to play most or all of the traditional instruments.
Today, the Pekan songs of the northern fisherman, the Gumbala chants of ancient warriors, the Dilere ditties of weavers plaiting their threads, and Yela sung by women, can still be heard, beautifully integrated with the modern musical rhythms. Music in Sénégal carries the country's art, history, and dance all wrapped up in one. To know Sénégal, and to understand some of it's impact on the rest of the world, listen to its beautiful music.
La référence musicale du Sénégal est sans conteste Youssou N'DOUR